The Church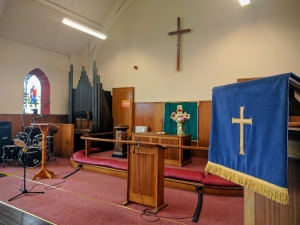 "A Church in the Community for the Community"
We are part of the world wide Methodist Church and reflect that by having members from at least 7 different countries.  We worship together on a Sunday at 10.30am and our service lasts just over an hour.  There is Sunday school for the children and teenagers.  We are not a large congregation but as part of the Methodist family we see the importance of loving and serving our neighbours whoever they may be.  That is why we run a Community Resource Centre so that we can put this into action.
You might like to join us at a weekday activity or if you want more information about the Church or to enquire about baptisms, weddings or funerals then the Church Minister Rev Helen Jobling would be pleased to hear from you.  You can reach her here.
Welcome to our JUNE 2017 NOTICES
Our Current Holy Habits Season is

"SHARING RESOURCES"
Acts chapter 2 verse 42 "All the believers were together and had everything in common"
Sunday Services
May 28th at 10.30am        All Age Worship led by Rev. Helen Jobling. This will include & Baptism of Thierry Wayne Phipps.
June 4th at 10.30am         Pentecost Sunday.  The Service will include the Confirmation and Reception into Church Membership and Holy                                                                        Communion. We will be confirming Ahleysha Welds, Daisy Aigbe and Martin Bangura.
June 11th at 10.30am          Morning Worship led by Rev Peter Bates.
June 18th at 10.30am           Morning Worship led by Rev Martin Freeman.
June 25th at 10.30am           All Age Worship led by Rev. Helen Jobling. This will include Presentation of Certificates.
July 2nd  at 10.30am          Morning Worship including Prayer Meeting led by Rev Helen Jobling.
July    9th at 10.30am           Morning Worship led by Kerry Scarlett.
---
'HOLY HABITS'
Holy Habit

Season

Suggested Time Period
Eating together
Pentecost/launch
17th May 15 – 1st July 15
Prayer
summer
12th July 15 – 30th Sept 15
Making more disciples
Harvest/Halloween/all souls/all saints
1st Oct 15- 30th Nov 15
Gladness & Generosity
Advent/Christmas
1st Dec 15 – 14th Feb 16
Breaking Bread
Lent/Easter
15th Feb 16 – 30th April 16
Service
Pentecost
1st May 16 – 30th June 16
Fellowship
Autumn and Advent
1st October 16 – 31st Dec 16
Biblical Teaching
Covenant
1st January 17 – 28th Feb 17
Sharing Resources
Lent/Easter
1st March 17 – 30th April 17
Worship
Pentecost
1st May 17 – 30th June 17
You can get more information about our 'holy habits' here: https://www.birminghammethodistcircuit.org.uk/holy-habits/
CIRCUIT AND CHURCH ACTIVITIES
Honey in the Rock – on Saturday 3rd June from 10:00am-1:00pm at Small Heath Methodist Church, Blake Lane, B9 5QT. You are welcome to this event where stories will be shared and food eaten. This is for small churches.
Circuit Family Fun Day & JMA Walk – on Sunday 4th June from 2:00pm-5:00pm at Earlswood Methodist Church Wood Lane, Earlswood, B94 5JR.  We will again be holding these two great events in the same place – a wonderful day of fun for all the family.
Lunch, Thanks & Goodbye to Ken Evans – on Thursday 22nd June at 12.00 noon at the Centre.  As well as being the Circuit Property Officer, Ken is the architect who designed our Centre.  Everyone welcome.
Holy Habits Family Party –  on Saturday 24th June from 5.00pm-7.00pm at Lozells Methodist Community Centre.  Please come and join in the fun.  Bring food and drinks to share.
Presentation of Certificates for Centre Volunteers – on Tuesday 27th June at 11.00am at the Centre. 
Holy Habits Programme Finishing Event –  Sunday 16th July from 4:00pm-9:00pm at Shirley Methodist Church, 257 Stratford Rd, B90 3AL.
Helen Jobling's Retirement Party – will be held at Lozells Methodist Church and Centre on Saturday 22nd July 2017 from 5.00pm-8.00pm.
Trip to Scarborough – The Dorcas Group will be having a Day Trip to Scarborough on Saturday 29th July 2017.  Tickets: £20 Adults & £10 Children (up to 12yrs). Coach will leave Lozells Methodist Church at 8.00am and Trinity Road 8.30am.  For more info call:- 0121 551 0804; 356 2587; 241 5541or 238 9587.
Refreshments after the Morning Service
These are served after the 2nd Sunday of the month and after All-Age Worship. You are welcome to help if you would like to.
Volunteers needed
to help teach IT in the Centre either one to one or to a group.
Jewels Project
Will have Christmas family Activity on Tuesday 20th from 10am-2pm at the Centre.
The Community Centre is Closed for Good Friday and Easter Monday (Bank Holiday) 14th & 17th April 2017.
Syrian Families
Are now using the Basement Hall on Saturdays 2pm – 6pm.  Please come and visit them and see how they settling down.
News from the last Church Council
The recording studio is being refurbished and turned into a meeting room. It will be finished in May.
We have received a quinquennial inspection of our premises and anticipate having to spend up to £200,000 in the next few years getting important work done. This money will need to be raised from grants and donations.
Pastoral Committee – For Minister, Pastoral visitors and Church stewards who are available.
Refreshments after the Morning Service – These are served after the 2nd Sunday of the month and after All-Age Worship.  You are welcome to help if you would like to.
Jewels in Lozells
This is a project which we have started – funded by the People's Health Trust. We are running groups over the next two years to encourage and help people to discover new talents and enjoy getting to know and meeting other people.

1) We have two Sewing Groups on Thursdays from10.00am – 12.00noon & 12.30pm – 2.30pm (any material, cotton etc, which you can donate would be welcome). People who can sew would be welcome to come and help with the groups.
2) Cake Decorating – Friday from 9.30am – 11.30am. Come along and decorate your own cakes or see how it's done.
Volunteers
Volunteers are welcome at the Centre  giving few hours of their time in Reception, Soup Kitchen, Tea & Toast and Job Club – Please tell your Families & Friends!
The Centre would like to appeal to the Church to bring in Dried / Tin foods
Tea and Toast:  Tuesdays 10am – 12noon.
Soup Kitchen: Thursdays 12pm – 2pm.  Come and enjoy a bowl of soup.  You are welcome to help make the soup, or to come and eat or just come for a cuppa and take the opportunity to talk to others.  12noon – 2pm.
Inspire Women's Group: is on every Tuesday from 12 noon – 2.00pm at the Centre.  Meet new people and make new friends!  An interesting programme of activities and talks is organised.  All ladies are welcome! See Tina, Nellie, Joyce or Reception for more information.
The Job Club.
Each Tuesday 10.00am –1.00pm. We are now able to offer Careers Advice and Benefit Advice as well. Please tell other people about our extended service.
THE CENTRE
Continues to be busy but could be busier. Please recommend it to families and friends who might need a Venue for Meetings and Parties.
Weekly Church Activities:
Tuesday: 2pm-3pm – Bible Study led by Danny Dorsett
Wednesday: 11am-3pm – Dorcas Ladies Group – craft, conversation – open to all.
On Sundays: Other Churches Worship:-
Chapel 1.30pm – 4pm, 5pm – 7pm
Auditorium 11am – 2.30pm; 3pm – 5.30pm;
There are also Prayer Meetings held on Wednesday Evenings: – 6pm-8pm & 7pm-9pm.
Pastoral:
Please continue to hold in your prayers these members of our Church Community:
Mrs Nash, Mrs Dore, Mrs Brown, Mrs Warner, Mrs Daley's family, Mr Samuel Skeete's family, Monica Haley's family, Mrs Jane Morgan's family, Marjorie John's family, Mandy Nana-Tchounga and her family, Mavis Alexander and family, Val Jones' family, The Scott family.
Contact Details:
Minister : Rev Helen Jobling, email: You can leave a message for her here – Day off on Fridays
Church Steward and Transport Organiser: Mr Jimmy Brookes
Church Stewards: Mrs Caroline Parkes, Mr Sam Sargeant, Mrs Caroline Nana-Tchounga,
Mrs Lyn Blake, Mr Richard Noah
Church & Community Centre: Salome, Blanka & Eddy Tel: 0121 554 9360 You can leave us a message here